If you're looking for the best digital marketing agency in Pakistan that can help take your business to the next level, you've come to the right place. We're a team of creative professionals who are passionate about helping our clients succeed. We offer a wide range of services, from website design and development to online marketing and SEO. Contact us today to see how we can help you grow your business.
What is a digital marketing agency?
A digital marketing agency is a customer-centric organization that uses digital technologies to create and deliver marketing, advertising, public relations, and customer experience solutions. A typical digital agency has a team of creatives, strategists, analysts, and technologists who work together to plan, design, build, and optimize digital marketing initiatives for their clients.

The goal of a digital marketing agency is to help its clients succeed in the ever-changing digital landscape. To do this, they must constantly be exploring new technologies and ways to reach and engage customers. They must also be able to measure results and adjust their approach as needed. Digital marketing agencies can either be full-service or specialized in one or more areas such as creativity, strategy, media buying, technology, or analytics.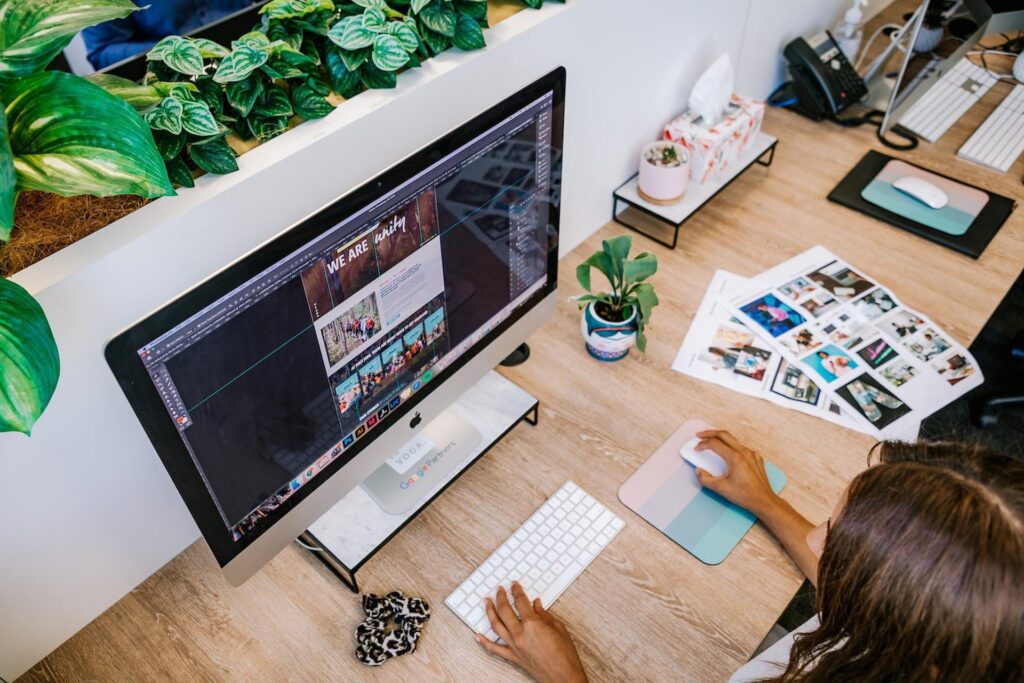 What are the benefits of working with a digital marketing agency?
There are many benefits to working with a digital agency. Below are just some of the advantages:
A digital agency can help you reach a wider audience. With their help, you can expand your reach and connect with more potential customers.
A digital agency has the skills and experience to create high-quality digital marketing materials. They can help you create stunning website designs, effective social media campaigns, and compelling video content.
A digital agency can save you time and money. With their help, you can focus on your core business goals and leave the marketing to them. This can free up your time so that you can focus on what you do best.
A digital agency can provide expert insights into the latest trends in digital marketing. They can help you stay ahead of the curve and make sure that your campaigns are using the latest tactics and technologies.
How many types of digital Marketing agencies?
Digital marketing agencies in Pakistan come in all shapes and sizes, from small boutique agencies to large multinationals. There are many different types of digital marketing agencies, each with its specializations and focus.
The most common types of digital marketing agencies are:
Full-service digital agencies:
These types of agencies offer a wide range of services, from strategy and planning to creative, design, development, media buying, and performance marketing. Many full-service agencies also have in-house teams of specialists who can offer additional services such as PR, social media, and content marketing.
Creative digital marketing agencies:
As the name suggests, these agencies focus on the creative side of things, from brand identity and design to advertising and video production.
Performance marketing agencies:
These agencies are all about results, specializing in paid media (such as PPC and paid social) and search engine optimization (SEO). They aim to generate leads or sales for their clients through online channels.
Digital product agencies:
These agencies specialize in designing and building digital products, such as websites, apps, and software. They often work with startups and small businesses that need help bringing their product ideas to life.
Content marketing agencies:
These companies create and distribute engaging content across various channels (such as blog posts, infographics, ebooks social media) to attract attention and generate leads for their clients.
How to choose the right digital agency for your business?
With so many digital agencies out there, it can be tough to choose the right one for your business.
Here are four tips to help you find an agency that will be a good fit for your company:
1. Define your goals.
What do you want to accomplish with your digital marketing efforts? Do you want to increase brand awareness, drive traffic to your website, or generate leads? Once you have a good understanding of your goals, you'll be able to better evaluate which agencies are capable of helping you achieve them.

2. Consider your budget.
How much are you willing to spend on digital marketing? Be sure to get quotes from multiple agencies before making a decision. You may find that some agencies are out of your price range, but don't let that deter you from considering them. It's important to remember that you get what you pay for when it comes to digital marketing, so be sure to factor in the quality of the agency's work when making your decision.
3. Look at the agency's portfolio.
This is one of the best ways to gauge an agency's capabilities. Take a look at the types of clients they've worked with in the past and see if they have experience in your industry or with achieving goals similar to yours. If they don't have much experience in your industry, that doesn't mean they can't do a good job, but it is something to keep in mind.
4. Ask for references.
Any good agency should be able to provide references from past clients who will attest to their quality of work and results achieved. If an agency is hesitant to provide references, that could be a red flag.
Top 10 digital marketing companies in Pakistan.
There are many digital agencies in Pakistan out there that offer a variety of services. It can be tough to know which one to choose for your business. To help you out, we've compiled a list of the top 10 digital agencies in the world.
1. Smartsites
2. Digital checkmate
3. Manta
4. Abtech
5. Gagitech
6. Inspaceweb
7. Navicosoft
8.The Triump
9. AAM Consultants.
10. Bit Links Tech.
Conclusion:
The digital agency is perfect for your business. Digital checkmate provides the best digital marketing services for your business. You can visit our service page.
Digital Checkmate Is A Full-Service Digital marketing agency in Karachi That Increases Your Brand Growth And Visibility on google and social media platforms! if you have any quires feel free to contact us.