For any company or website trying to improve its online presence and generate organic traffic in the digital era, producing compelling content that ranks highly in search engine results is necessary. To accomplish these goals, content marketing and SEO (Search Engine Optimization) work hand in hand. The importance of staying ahead of the competition and giving your users useful material cannot be underlined given how quickly content marketing and SEO are developing fields. With the help of content marketing and SEO, this post will walk you through efficient strategies and approaches for producing interesting content that ranks.
How to Create Engaging Content That Ranks: Content Marketing and SEO
To attract and keep on to a targeted audience, content marketing requires the creation and distribution of valuable and appropriate information. The goal of SEO, on the other hand, is to optimize your website's content and visibility so that it appears higher in search results on Google and other search engine platforms.
For companies to be successful online, content marketing and SEO must be combined. While content marketing enables you to engage with your audience and establish trust, SEO makes sure that your material is discoverable by search engines and reaches a wider audience. You can develop a successful strategy for improving your website's exposure and bringing in organic traffic by combining these two strong strategies.
Here are several key steps to help you achieve success.
1. Understand Your Audience
Knowing your target audience is the first step in producing attractive material. Find out about their interests, pain points, and demographics. Your ability to modify your content to their particular requirements and tastes will be helped by this knowledge.
2. Keyword Research and Optimization
Understanding the search phrases used by your target audience is crucial for optimizing your content because keywords are the foundation of SEO. With the help of keyword research tools like Google Keyword Planner, SEMrush, or Ahrefs, start by discovering appropriate keywords associated with your subject.
To increase your chances of ranking, look for keywords with a large search volume and low competition. Long-tail keywords, which are more specific and more lengthy phrases, can be very useful for focusing on expert audiences and driving traffic from such demographics. Include these keywords strategically in the title, headings, subheadings, meta tags, and body paragraphs of your content.
3. Compelling Headlines and Introductions
When it comes to grabbing readers' attention and getting them to click through to your material, headlines are essential. The secret to creating organic traffic for your website is to create catchy headlines that are both interesting and useful. To make your title search engine-friendly, naturally, put your goal keywords into it.
In order to make your headlines attractive, you can also think about employing strong words, research, and emotional triggers. You may raise the rate of clicks and engagement of your content by writing headlines that make a promise of value, spark interest, or address an issue.
4. Engaging and Informative Content
Delivering value to your audience is at the foundation of developing informative material. Focus on providing detailed information, addressing the problems of your audience, and offering workable solutions when you are developing your content. To improve the user experience, combine text, images, and interactive components. Make your information relatable and interesting by using storytelling methods, private experiences, and real-world examples.
To make it simpler for readers to find their way around and discover the information they need, divide your text into well-organized paragraphs and use subheadings.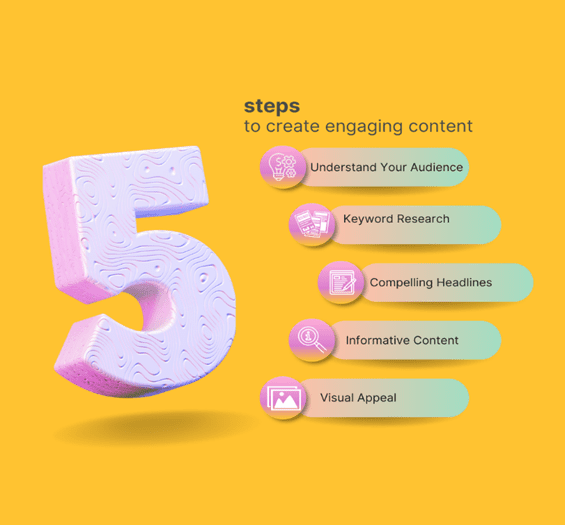 5. Visual Appeal
Adding visual components to your information, such as pictures, infographics, and videos, improves its visual appeal. In addition to helping to break up the text, visuals also increase the shareability and recall of your material. Make sure your images are relevant, excellent and properly ready for web use.
6. Readability and Formatting
Keep your audience interested by making sure your writing is readable. To divide your text into smaller sections, use short paragraphs, subheadings, and bullet points. To guarantee a smooth transition between concepts and an orderly sequence, use transitional words and phrases.
Make sure your photos are high-quality and related to your content, compress them to speed up page load time, and add alt tags with relevant keywords. Create compelling infographics or add videos to add value and improve the user experience. For improved search exposure, don't forget to optimize the video descriptions and alt text as well.
7. External Links to High-Quality Sources
Backlinks are an essential part of SEO and have a big impact on how authentic and credible your content is. Build credible and relevant backlinks from websites that are related to your industry. This can be accomplished through guest blogging, working with influencers, producing worthwhile content that eventually pulls backlinks, and participating in online forums and communities.
Focus on developing a diverse backlink profile with a mix of links from trustworthy domains, niche portals, and various anchor texts. Remember that when it comes to backlinks, quality always overcomes quantity, therefore give priority to obtaining connections from reliable sources.
8. Optimize for SEO
Use on-page SEO strategies to make your content more visible in search engine results. Use appropriate keywords to improve meta tags like title tags and meta descriptions. To format your material, use the appropriate header tags (H1, H2, etc.). A mobile-friendly website will also improve user experience and search engine rankings.
.
9. Promote Your Content
The battle is not over after interesting content is created. Use a variety of ways to spread the word about your work, such as social media, email marketing, and influencer partnerships. Respond to comments, address inquiries, and promote social sharing to engage your audience. Utilize your network and interact with your followers to create buzz and natural backlinks.
10. Analyze and Iterate
Analytical tools can be used to monitor the effectiveness of your material. Keep track of interaction data, page views, and bounce rates. Examine the statistics to learn what works and what doesn't. Iterate your content approach as necessary, making the appropriate revisions.
FAQs
Q1: How long does it take for content to rank on search engines?
A: Search engines typically take some time to crawl and index your information. Within a few weeks to a few months, with the right optimization and promotion, you can observe improvements in rankings.
Q2: Should I prioritize content quality or keyword optimization?
A: Quality content should come first even though keyword optimization is also important. The end result will be improved search engine results if you provide valuable, high-quality content that engages your audience.
Q3: How important is social media for content marketing and SEO?
A: social media plays a crucial role in content marketing and SEO. By promoting your content on social media platforms, you can increase its visibility, attract more readers, and encourage social sharing.
Q4: Is content length a ranking factor?
A: While content length is not a direct ranking factor, longer-form content tends to perform better in search engine rankings. Longer articles often provide more comprehensive information and tend to attract more backlinks.
Conclusion
A smart integration of content marketing and SEO strategies is necessary to produce interesting material that performs well in search engine results. You may draw organic visitors and raise your online presence by knowing your target, doing careful keyword research, and producing worthwhile content. To achieve the best results, keep in mind to optimize your content for SEO, market it through a variety of channels, and regularly review and revise your plan.
Always remember that the secret to success is continually giving your audience value and changing with the worlds of content marketing and SEO. You may establish yourself as an authority in your field, draw a regular flow of organic visitors to your website, and present yourself as such by putting these methods into practice and keeping up with the most recent developments.