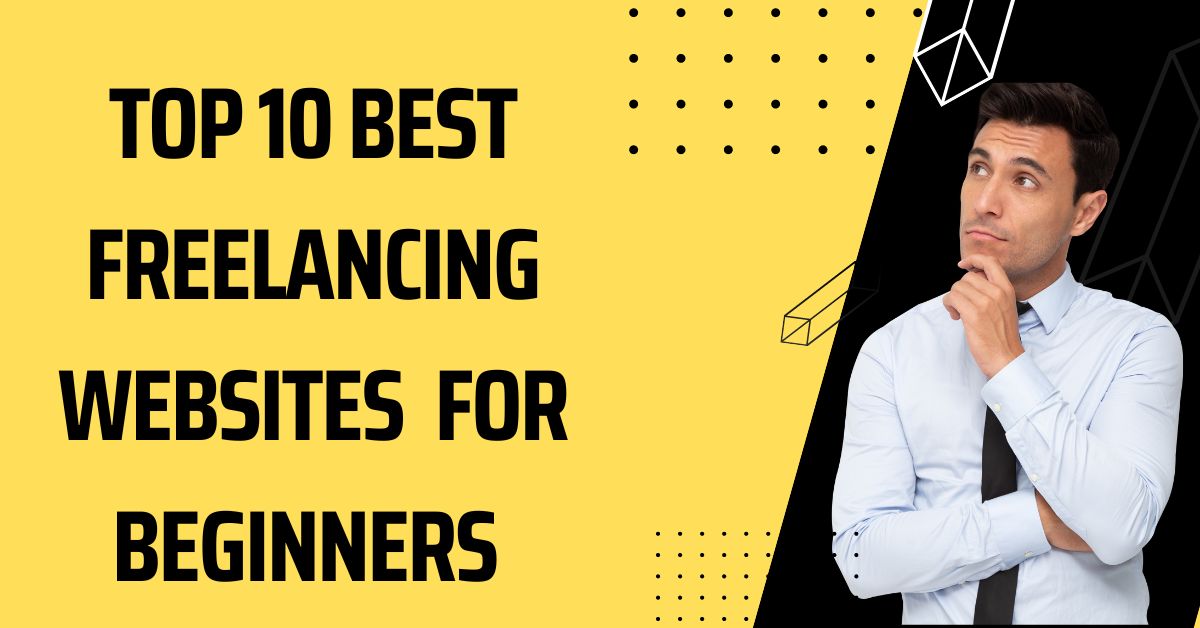 When we discuss the word freelancing many people might think it's a company or a sort of job that pay well, so before starting and discussing the 10 Best freelancing Websites in Pakistan, we will explain to you what freelancing is and some common questions regarding the topic and why it is so much popular in Asian and other countries.
What is "Freelancing in Pakistan"?
"Freelance" means to work remotely and to work for yourself, having no time limit or a boss on your head pressurizing you to complete the work. Freelancing became most popular in Covid-19 when many workers and employees lost their job all around the world and started working remotely from different online platforms.
how to start freelancing in pakistan?
Here are some secret tips, by using them you can start online freelancing easily.
Choose the skill of your interest to start Freelancing.
Build yourself as a top freelancer in your skill.
Create an awesome portfolio
Make Solid contacts with others in your related field.
Choose the best online earning website which suits you and your style of work.
Practice your skill before jumping into the Freelancing marketplace.
Which skill is best for freelancing in Pakistan?
According to a study, the best skill for a person to start freelancing is a skill in which he has an interest. However, there are many online freelancing skills that you can expertise in before starting your online journey. Here are some given below.
Designing
Financial advisors
Project management
Translators
Graphic Designing
Content writing
Product managing
SEO
Video editing
blogging
Freelancing became a business and a sign of good skills in developing countries, especially in Asian countries. This is because of increasing in literacy rate but decreasing in job opportunities in countries that's why more and more people are turning towards online earning which is termed freelancing throughout the world.
Why work as a Freelancer in Pakistan?
It is 100 % safe to work as a freelancer in Pakistan, and also to hire freelancers from Pakistan. Some of the finest gems of the freelance marketplace are from Pakistan and are making a handsome amount of their time and skills. Now it's enough to satisfy a person to ensure that learning freelance is a step toward a good and independent career. Now we will discuss our main topic "The top ten Best Freelancing Websites for beginners in Pakistan".
Hike of freelancing in Pakistan:
The global Business Process Outsourcing (BPO) industry has been consistently growing since 2002. The BPO industry is expected to reach $405.6 billion by 2027, thanks to the contribution of freelancers, countries including Pakistan, India, and China are among the countries receiving the majority of outsourced work due to the great availability of manpower and skills at a lower price point. As far as Pakistan is concerned, freelancing in Pakistan has progressed at a great pace. From outbound and inbound call centers to the growth of tech companies, software houses and content mills, freelancers in Pakistan have become very competitive in the foreign market. Pakistan's gig economy or freelancing industry in Pakistan was revealed in a periodical report on the year 2018-19, released by the State Bank of Pakistan. Pakistan is also counted among the five most popular countries in the world of freelancing.
How to get payments through freelancing websites in Pakistan?
Now it's very easy to get payments in Pakistan all the freelance websites are supported to get payments in Pakistan easily. Simply just connect your bank account with a freelance website and now you can easily take your work payments.
Which bank is supported a freelancing website for payments?
The banks create now amounts supporting freelancers to easily make money in dollars and Pakistani amounts also easily go to the branch and create your freelancer account.
Top 10 best freelancing websites in Pakistan:
1-Fiverr.com – (Best Freelance Website in Pakistan):
For beginners, Fiverr is the best freelancing website in Pakistan. A person can easily find jobs in different niches and professions while working remotely based. A perfect platform for management, data entries, artists, finance, graphic designers, photographers, writers, and much more. Fiverr was launched on 1st February 2010. The average annual revenue obtained by Fiverr is between 100 million to 200 million dollars. It is used in Pakistan by more than 8 % of the people. Create your account here Fiverr.com.
2-UpWork.com – (Best Freelance Website to provide Jobs in Pakistan)
Upwork is known for providing the best freelance jobs in Pakistan and throughout the globe. Formerly known as "Elance-oDesk" Upwork was merged in 2015 and today it's known as Upwork Global. Upwork has been ranked in the 100 most influenced Companies of the Year 2023. The average annual revenue of the marketplace is between $200 million to $1 billion. 
It is also one of the best freelance marketplaces that comprises about one and a half million (1.5 million) freelance clients. On this freelance marketplace, you can find different types of jobs that may be changed hourly work to fix projects. Create your account today at Upwork.com.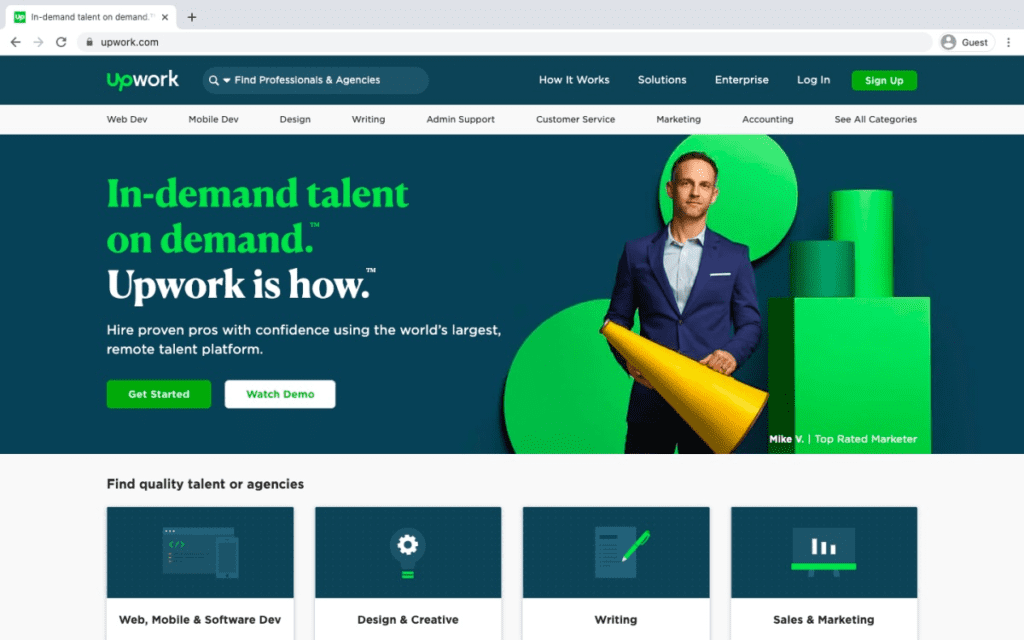 3-Guru.com
A freelance marketplace created by USA, Pennsylvania Pittsburgh in 1998 was named "eMoonlighter.com" by two brothers (Jon and James Slavet). Guru is at 52,515th number in the global ranking. As far as it concerns, its category ranking is at 497th number overall the globe.
Guru.com is also the best for freelancer site in Pakistan beginners to find the perfect job for their career. Here a Freelancer can select a job out of many categories, in any specific field in which he/she is interested.
On Guru, freelancers can create a powerful dashboard for communication with the employer. Through this dashboard, freelancers will be able to receive tasks, files, documents, and any sort of update related to the job. Create your free account now – Guru.com.
4-99DESIGNS.com – (Easy Freelancing)
99 Designs is also a freelancing marketplace suitable for beginners. This site connects freelancing designers with employers or organizations. This website is a diamond cave for good designers with amazing skills.
To enhance the skills of freelancing designers, this website also provides tutorials and toolkits. This freelancing website helps the buyers in finding the right person or in starting a design contest. The freelance web services include posters, logos, banners, and much more for the company and buyers. You can create an account right now and start your new journey on 99Design.com.
5-PeoplePerHour.com
PeoplePerHour provides the right opportunities to freelancers according to their qualifications and skills. Different types of plans are offered by the Website to the Freelancers i.e.; Monthly payment, one-time, and quote based-payment methods. The site provides the greatest online job opportunities to beginners in 2023.
The payments are protected and a person does not have to get panic about the payment deliveries. Create your free account now -PeoplePerHour.

6-Freelancer.com- Biggest Freelance Marketplace
Freelancer.com is the biggest marketplace in the world. On this biggest Marketplace, about 12.6 million Jobs are posted. You can start with hands-on skills like data entry, writing the contents, logo designing, web designing, web development, and much more. It is globally ranked at 5,934th number and has a category ranking at 30th number. The total visits to Freelancer.com to date is 6.8 million with a bounce rate of 29.64%. The average annual revenue of Freelancer.com is between $25 million to $50 million. The site helps you with the bid which is best for you. Create your new account now – Freelancer.com
7-FlexJobs.com
FklexJobs is also one of the best freelance marketplaces, to work without worrying about scams and hassle. Payment methods are safe as they can be. Freelancers can market their services to potential employers. However, the platform is not free of cost. It comes with different plans and packages that one has to subscribe to for free access to jobs. You can visit their website for more details. FlexJobs.com.
8-Freelance Writing Jobs.com
One of the best Freelance websites for beginners and online job opportunities are provided in the category of writing whether you are a blogger, writer, proofreader, or editor. Good at writing? Create your account today on Freelance Writing Jobs.
9-Toptal.com
Toptal is a USA-based freelance marketplace that came into being in 2010 as a platform to connect software engineers, designers, financial experts, project managers, and product managers with each other. Beginners who want to start freelance as their new career can initiate their efforts here. This website is globally ranked at 11.437th number. Total visits on Topatl.com are 5.8 million
people with a bounce rate of 65.87%. The average retention time on Toptal is 2 minutes and 22 seconds which is alarming. Its average annual revenueis between $100 million to $200 million.
10-Upstacks.com
Upstacks.com is a freelance marketplace that is an alternative to Toptal introduced in 2010 with average annual revenue of between 25 million to 50 million dollars. One of the best freelance platforms for beginners to start their freelance projects. Upstack is globally ranked at 371,915th number, total visits on this website are 128.6 thousand people with a bounce rate of 66.18%, the average retention time on Upstack.com is 1 minute and 14 seconds which is not very good and means users lose their interest in the website as time passing.
Conclusion:
If you are a beginner in freelancing and want to start your new career by choosing freelance then don't panic you can just start by selecting one of the Freelance sites that are given above in the post and can start a million-dollar journey from today but remember one thing money is not everything, do enhance your skills first, I hope, this article "Top Ten Best Freelancing Websites in Pakistan" will be very helpful for you and you will be able to earn a tremendous amount of money and could enhance your skill by just staying at home.