In the ever-evolving world of digital marketing, Search Engine Optimization (SEO) is the backbone of online success. To excel in SEO, you need the right tools in your arsenal. Two of the most prominent players in the SEO tool arena are Ahrefs and Semrush. In this article, we'll conduct an in-depth analysis to determine which of these powerful SEO tools reigns supreme.
Understanding the Basics
Ahrefs: Uncovering the Secrets of Backlinks
Ahrefs is renowned for its exceptional backlink analysis capabilities. It allows you to explore your competitor's backlinks, identify link-building opportunities, and track your own website's performance. With its extensive database, Ahrefs provides valuable insights into the backlink landscape, enabling you to craft effective link-building strategies.
Semrush: A Comprehensive SEO Suite
On the other hand, Semrush is a comprehensive SEO toolkit that goes beyond backlink analysis. It offers a wide range of features, including keyword research, site audit, competitor analysis, and social media management. Semrush aims to be a one-stop-shop for all your digital marketing needs.
The Showdown: Ahrefs vs. Semrush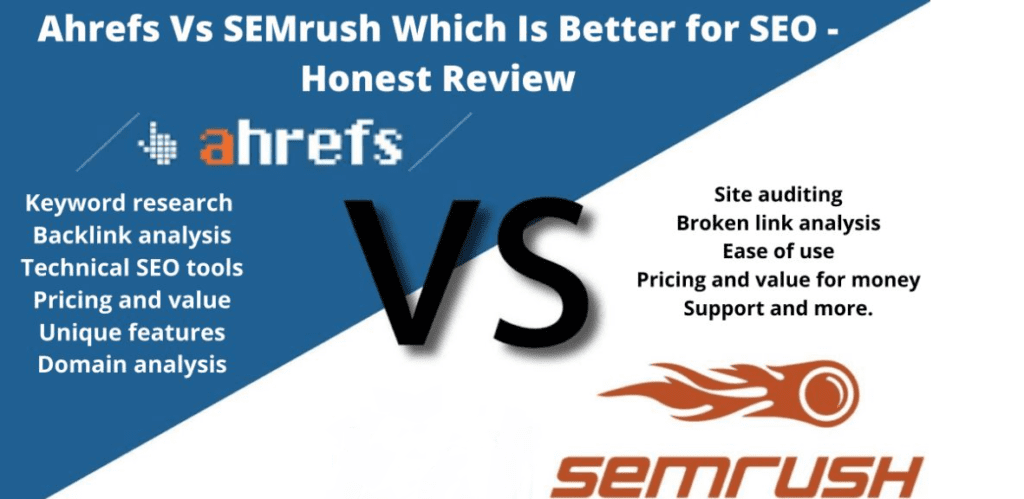 Pricing
When it comes to pricing, Ahrefs and Semrush offer several subscription plans to cater to different user needs. Ahrefs' plans start at $99 per month, while Semrush's plans begin at $119.95 per month. While Ahrefs may seem more affordable at first glance, it's essential to evaluate the features included in each plan to determine their true value for your specific requirements.
Backlink Analysis
Ahrefs takes the lead in backlink analysis. Its vast database and powerful tools make it the go-to choice for link-building enthusiasts. You can easily uncover your competitors' link-building strategies and identify the most authoritative websites in your niche.
Keyword Research
Semrush shines in the realm of keyword research. Its keyword magic tool is a treasure trove for finding valuable keywords and understanding their search volume, competition, and trend history. This is invaluable when optimizing your content for search engines.
Site Audit
Both Ahrefs and Semrush offer site audit features to help you identify and rectify on-page SEO issues. However, Semrush's interface and recommendations may be more user-friendly for beginners.
Competitive Analysis
Semrush's competitor analysis tools are robust and user-friendly. You can gain insights into your competitors' organic search strategies, paid advertising efforts, and content marketing tactics. Ahrefs, while still effective, may not be as intuitive for this purpose.
Content Research
Semrush provides a content research feature that helps you discover popular topics and content ideas in your niche. This can be a game-changer for content marketers looking to create engaging and relevant content.
Additional Features
Semrush offers a wider array of tools, including social media management and advertising research, making it a comprehensive solution for digital marketers. Ahrefs focuses primarily on SEO-related functions.
Conclusion
In the battle of Ahrefs vs. Semrush, there is no clear winner. The choice between these two SEO giants depends on your specific needs and preferences. If you're primarily focused on backlink analysis and link-building, Ahrefs might be your best bet. However, if you need a more comprehensive suite of digital marketing tools, Semrush is the way to go.
In the end, the best SEO tool is the one that aligns with your goals and helps you achieve success in the digital landscape.
FAQs
Q1) Is there a free trial available for Ahrefs and Semrush?
Both Ahrefs and Semrush offer a free trial period for users to test their features and functionality.
Q2) Can I use Ahrefs and Semrush together for my SEO efforts?
Yes, many SEO professionals use both tools to leverage their respective strengths for comprehensive
SEO strategies.
Q3) Are there any alternatives to Ahrefs and Semrush?
Yes, there are alternatives like Moz, Serpstat, and SpyFu, each with its unique features and pricing.
Q4) Which tool is better for beginners, Ahrefs, or Semrush?
Semrush is often considered more user-friendly for beginners due to its intuitive interface and helpful
recommendations.
Q5) Do Ahrefs and Semrush offer customer support?
Both Ahrefs and Semrush provide customer support through email and chat, ensuring you receive
assistance when needed.